Formation: A Woman's Memoir of Stepping Out of Line (Hardcover)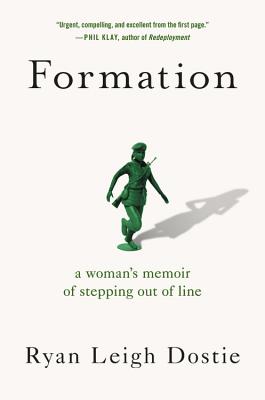 $28.00
Usually Ships in 1-5 Days
Description
---
Named by Esquire as one of the Best Nonfiction Books of the Year: Chanel Miller's Know My Name meets Cheryl Strayed's Wild and Anthony Swofford's Jarhead in this powerful literary memoir of a young soldier driven to prove herself in a man's world.
Raised by powerful women in a restrictive, sheltered Christian community in New England, Ryan Dostie never imagined herself on the front lines of a war halfway around the world. But then a conversation with an Army recruiter in her high-school cafeteria changes the course of her life. Hired as a linguist, she quickly has to find a space for herself in the testosterone-filled world of the Army barracks, and has been holding her own until the unthinkable happens: she is raped by a fellow soldier.
Struggling with PTSD and commanders who don't trust her story, Dostie finds herself fighting through the isolation of trauma amid the challenges of an unexpected war. What follows is a riveting story of one woman's extraordinary journey to prove her worth, physically and mentally, in a world where the odds are stacked against her.
About the Author
---
Ryan Leigh Dostie is a novelist turned soldier turned novelist. As an Army Persian-Farsi/Dari Linguist in Military Intelligence, she was deployed to Iraq during Operation Iraqi Freedom I and II (2003-2004). She holds an MFA in fiction writing and a bachelor's degree in History from Southern Connecticut State University. She lives in New Haven, Connecticut, with her husband, her wondrously wild daughter, and one very large Alaskan Malamute. FORMATION is her first book.
Praise For…
---
A 2019 New England Book Awards Finalist
Longlisted for the 2019 Outstanding Works of Literature (OWL) Awards

An Esquire Best Nonfiction Book of the Year
A Bustle 21 New Memoirs That Will Inspire, Motivate, and Captivate You This Summer
A BookRiot 50 of the Best Books to Read This Summer
A PureWow Books we Can't Wait to Read in June
A Patch.com 10 Best Books to Read in June
"Urgent and necessary."—
--Esquire
"Rape victims must yell, cry and fight, says the Army that trained us for years to be silent, strong and obedient."—
New York Times
"FORMATION is a brilliant addition to the memoirs of war. With grounded and elegant prose Dostie narrates her harrowing journey into combat and through the violet quagmire of Military Sexual Trauma. We should all read this heroic and timely book."—
Anthony Swofford, New York Times bestselling author of Jarhead
"Raw, explosive...Dostie writes powerfully...In the sparse landscape of war memoirs by female soldiers, Dostie's resolute, literary account of her five years in the army sets a benchmark."—
Publishers Weekly
"Though I knew it would be urgent, compelling, and excellent from the first page,
Formation
was a much more expansive book than I even could have suspected: a riveting, enraging memoir from an author of remarkable toughness and emotional range. This is an unflinching and honest account of war, of homecoming, and of what happens when a woman reports an assault and the institutions around her try to smother the truth."—
Phil Klay, National Book Award-winning author of Redeployment
"Formation
grabs us by the collar and never relents, much like Dostie herself, whose path to independence gets paved with blood and sacrifice. Her gripping memoir lays bare the pain of proving yourself in a man's world, but also the rich rewards. Most of us will probably never go to war, but Dostie's story speaks to a daily struggle many of us face: the battle to believe in ourselves."—
Sarah Hepola, New York Times bestselling author of Blackout
"An essential telling of one woman's account of training and combat: staggeringly beautiful, gutsy, and harrowing. Dostie has written the rare memoir that is destined to be a classic. I couldn't put this book down and I never wanted it to end."—
Christa Parravani, bestselling author of Her: A Memoir
"This is a fierce memoir of survival-a visceral and vital portrait of what it takes to thrive as a woman in a man's world. Time is long overdue for the world to hear Ryan Leigh Dostie's remarkable story of resilience in the face of the unspeakable."—
Susannah Cahalan, #1 New York Times bestselling author of Brain on Fire
"Vital, brutal and absolutely compelling...A significant standout."—
Marilyn Dahl, Shelf Awareness
"Here is the war memoir re-invented. Dostie offers a beautiful, soulful, and astonishingly fresh take on the war in Iraq, and a deeply original book.
Formation
should be a must read at West Point, the Iowa Writers' Workshop, and all points in between."—
Jake Halpern, New York Times bestselling author of Bad Paper
"Engaging...This powerful memoir explores issues of trauma, human rights, and the resilience needed to stand up for ourselves when everyone is trying to keep us quiet."—
Inc.
"[An] unquestionably inspiring story traversing the personal and public battlefields of sexual assault in the armed forces...Each of these narratives deserves to be heard.—
Kirkus
"What makes
Formation
more than a story of victimization is partly Dostie the soldier, a gritty protagonist we can root for. It's also partly Dostie the writer."—
Daily Nutmeg