Overground Railroad: The Green Book & Roots of Black Travel in America (Hardcover)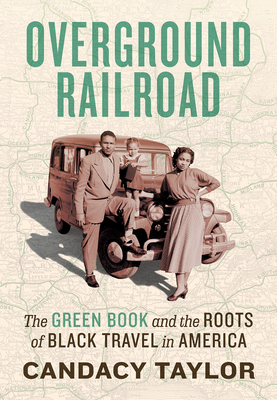 About the Author
---
Candacy Taylor is an award-winning author, photographer and cultural documentarian. Her work has been featured in over 50 media outlets including the New Yorker and The Atlantic. She is the recipient of numerous fellowships and grants including The Hutchins Center for African & African American Research at Harvard University and the National Endowment for the Humanities. She lives in Denver, Colorado. Visit her website at taylormadeculture.com and follow her on Twitter @candacytaylor.
Praise For…
---
"With passion, conviction, and clarity, [Candacy] Taylor's book unearths a fascinating and true—if not willfully obscured—history of African American activism and entrepreneurship in the United States. This remarkable study broadens our understanding of black life, leisure, and struggles for equality in twentieth-century America, presents the Green Book as a social movement in response to a crisis in black travel, and makes a compelling case for the need to protect more diverse African American sites that have been heretofore underappreciated."
— Brent Leggs
"In scope and tone, "Overground Railroad" recalls Isabel Wilkerson's "The Warmth of Other Suns…At its center, the book is a nuanced commentary of how black bodies have been monitored, censured or violated, and it compellingly pulls readers into the current news cycle."
— The Los Angeles Times
"…a fascinating history of black travel.. telling the sweeping story of black travel within Jim Crow America across four decades."
— The New York Times Book Review
"The strength of this book about a book lies in the street-level views through which the American road unspools in all its compromised glory."
— The Economist
"A fascinating look at a groundbreaking guide."
— The New York Post
"…her book is a moving and needed history. The overt white nationalism of our era highlights the covert racism that never went away."
— Bookforum
"An enriching look at African American history through the lens of the black motorist, and as one of the few books on the subject, this is essential for most collections."
— Library Journal, STARRED REVIEW
"Overground Railroad is an eye-opening, deeply moving social history of American segregation and black migration during the middle years of the 20th century."
— BookPage, STARRED review
"The overarching story of the Green Book reminds us that individual acts of bravery contributed immeasurably to standing up to segregation."
— The Daily Beast
"In offering tangible actions readers can take, Taylor has created a valuable document that, like The Green Book itself, serves as a bittersweet handbook of resilience in the face of injustice."
— Chapter16.org